VETTED BY THE BEST FOR ISSUES MANAGEMENT
Why a Risk-Based Approach to Project Issues Tracking & Management is important:
How Our Issues Management Software Helps
COMPLIMENTARY DOWNLOAD:
YMCA of Greater Boston and Incident Management Case Study
See how the YMCA of Greater Boston Utilized LogicManager for better incident management.
Streamline Issues Tracking with LogicManager
Here's what you'll get with LogicManager's comprehensive Issues management software package:
Easily engage relevant parties, from risk managers, to compliance officers, vendor managers, the audit team or other process owners, using our

secure webform

that allows anyone to quickly submit an issue or finding.

When an issue is flagged, this will automatically kick off a

workflow

that triggers the responsible team to prioritize the issue, delegate action items and track the issue until resolution.

Send out

recurring tasks

to automatically get monthly updates on the issues and findings to ensure the process is being continually made on resolving the issue.

View all issues across all areas of your organization in one,

centralized repository

to better identify trends, bottlenecks, dependencies and more.

Generate

robust reports

using our reporting engine, including:

An

Incidents Narrative Report

displaying all details about one issue in one place.

Tasks Reports,

which show all outstanding actions needed for remediating an issue.

The

Incidents Dashboard,

which helps you identify trends across findings and determine if there are similar root causes that need to be addressed.
What are Issues and Findings?
Issues and findings, whether they pertain to your audit, regulatory compliance, IT or any other department, refer to any problems (or signs of potential problems) that could negatively impact your business. Similar to risks, the exact nature of an issue is largely unknown before it takes place. Depending on the nature of your organization, your issues and findings will vary; they may range from service interruptions, to failures in IT security controls, processes that violate compliance requirements or an employee injury.  
Managing and tracking issues and findings, at a bare minimum, occurs when an unexpected issue arises. However, taking a risk-based approach means proactively evaluating your planned process for dealing with those issues and findings so that you are always prepared to do so in a way that minimizes impact. 
Issues and findings are often seen only as a negative part of your organization when in reality, uncovering issues and findings should be viewed as an opportunity to improve your organization. At its core, identifying issues and findings is a way to identify gaps or weaknesses in your program which in turn, helps you to improve your processes and prevent future surprises. 
Request a Demo For LogicManager's
Issue & Project Tracking Software
Want to make sure you're working with the best of the best? Book a demo for our issues tracking system package today!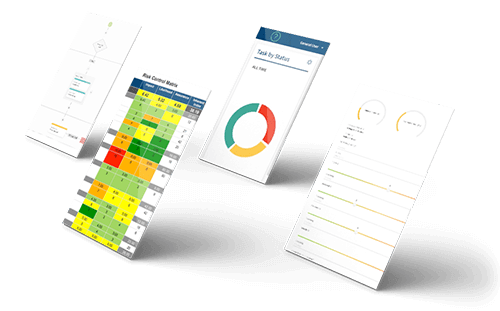 Request a Free Demo
Learn How LogicManager's Issue & Project Tracking Software Can Help Transform Your Risk Management Program
Speak with one of our risk specialists today and discover how you can empower your organization to uphold their reputation, anticipate what's ahead, and improve business performance through strong governance.
Russian invasion of Ukraine