Document, manage, and prioritize control strategies with LogicManager's risk mitigation tools.
Guiding Our Customers

Through Covid-19
Learn more about our COVID-19 risk management solutions that we have customized and packaged for existing clients at no additional cost.
Reduce Your Organization's Exposure to Risk.
Risk mitigation is defined as the process of reducing risk exposure and minimizing the likelihood of an incident. Your top risks and concerns need to be continually addressed to ensure your business is fully protected. LogicManager enables you to make connections throughout your organization by linking controls to risks, activities, policies, procedures, and more to track their effectiveness. Our risk mitigation software goes beyond risk-specific mitigation, and helps you eliminate duplicative controls, streamline operations, and achieve heightened business performance.
Connect risks across silos.
LogicManager connects the dots between controls and their effects on each business process.
Our  taxonomy technology connects risk mitigation activities to the departments, resources, and people they depend on through one centralized repository.
Automate workflows then notify appropriate stakeholders when the resources, policies, and processes connected to a control change.
Centrally manage information.
Define and document your risk mitigation strategies by building a searchable repository of operational, and procedural activities.
LogicManager ensures the right people are looking at the most relevant information by highlighting controls, priority levels, historical changes, and due dates. This eliminates the burden of updating, notifying, and tracking risks that are already maintained in another department.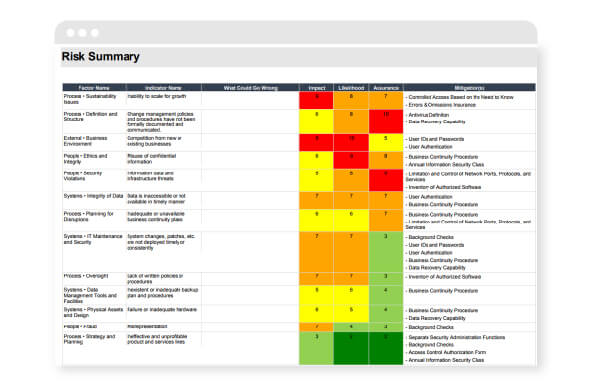 Identify gaps in your risk management program.
It's one thing to address the risks in your organization, and it's another to address the continued effectiveness of your risk mitigation efforts.
LogicManager's risk dashboards and reports automatically identifies misalignments and ineffective controls. This enables you to consolidate activities and connect existing work to eliminate any redundancies or gaps in protection across your organization.
Succeed with connected solutions and unlimited support!
LogicManager's risk tracking solutions help you understand key dependencies and control effectiveness, so you can better allocate time and resources towards what matters most. Request a free demonstration of our solutions to see how LogicManager's connected solutions and unlimited support can enable your success.
Monitor the right metrics.
Not sure which metrics you should be monitoring? Download our eBook, "Meaningful Metrics: Using ERM to Inform Strategy," to learn how to improve efficiencies, identify new opportunities, and prevent risk events.
Explore our risk assessment tools.
Standardized risk assessments and objective criteria are the foundation of effective risk metrics and monitoring. Explore how LogicManager's risk identification and assessment tools can help gather information across functions.
Explore our other features.