Results-driven risk management with our powerful and intuitive risk assessment tools
Risk management shouldn't be rocket science and with our risk management software we make identifying and assessing risk simple. LogicManager's risk assessment tools are engrained with best practices, so you can build your program on a foolproof foundation to both protect your business and drive impactful results.
Our software enables you to collect, aggregate, and analyze comparable data across your organization. The best part: you don't have to be an expert to use it, so breaking down silos is a snap. LogicManager empowers you to move beyond risk identification and assessments. We're a tool for better decision making, enhanced performance, and all-around success.
Assess Risks With Our All-in-One Software
Identify the root cause of your company's risk
The most effective risk identification techniques focus on root cause. It's not enough to identify what happened. You need to understand why it happened in order to truly mitigate risk.
LogicManager standardizes the risk analysis process and enables your organization to discover root causes. This makes identifying systemic issues that affect your entire organization simple.
Our root cause approach and risk assessment tools help you uncover upstream and downstream dependencies enterprise-wide, so you can design centralized controls that eliminate the cost and time of duplicate effort.
Take advantage of our fully stocked risk library
LogicManager's risk assessment software comes with pre-built risk libraries that you can customize and expand as needed.
Standardization is key in this process, and our risk library allows different business units to communicate in a uniform fashion so you can easily identify and prioritize the most critical risks.
Our library is flexible and completely customizable to your specific industry and operations. It also includes a repository of regulations, standards, and frameworks relevant to your business.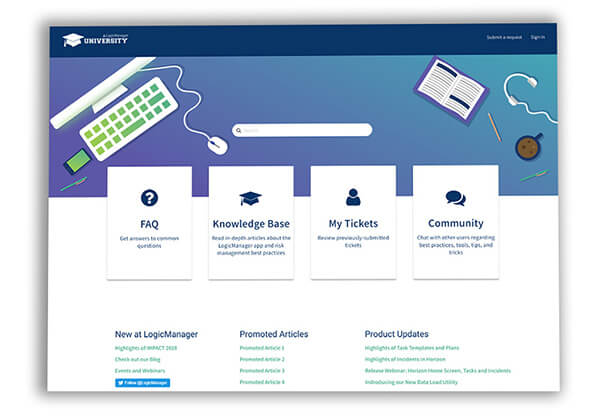 Get unlimited support from our risk advisory experts
LogicManager's risk tracking solutions help you understand key dependencies and control effectiveness, so you can better allocate time and resources towards what matters most.
Request a free demonstration of our solutions to see how LogicManager's connected solutions and unlimited support can enable your success.
COMPLIMENTARY DOWNLOAD: 5 Steps To Better Risk Assessments
Our risk guide 5 steps to better risk assessments is designed to help you take the first steps in standardizing your processes.
Determine what data you need to collect from your business areas, define key terms, and outline suggested answer selections.
Create rich analyses
and engaging reports
LogicManager's risk assessment software makes for painless analysis and reporting.
Once you collect objective, comparable data you can easily identify trends and develop a meaningful context for your company's risk profile.
Related Risk Assessment Content
Frequently Asked Questions
What Is Risk Assessment Software?
Risk assessment software can help you identify, evaluate and mitigate threats that could potentially harm your organization. It can help you more efficiently and effectively minimize losses, ensure employee safety, improve your reputation and more. Risk assessment software does not include many of the features that are typically included in an ERM or GRC platform, because it focuses solely on the risk management department's responsibilities, particularly their responsibility to assess risks. 
What Are Some Risk Assessment Software Features?
Risk Assessment software usually includes tools for helping you identify hazards and determine who or what may be harmed if that hazard materializes. There will also likely be tools for streamlining ways to take action against those risks through mitigation and monitoring, recording your findings and repeating the process through review and continual updates. 
How Much Does Risk Assessment Software Cost?
The price of risk assessment software varies greatly depending on which vendor you select. Some software vendors offer platforms for around $15,000, while others offer more premium applications and services that put their prices higher, at around $25,000. To determine the price of a GRC software vendor, since software product offerings often greatly vary based on user needs, you'll usually need to meet with a representative from their company to receive a customized quote. It's also important to note that in many cases, the cost of professional services that are needed to use a risk assessment platform can be significantly more expensive than the cost of the actual software.
How Do I Know If Risk Assessment Software Is Right For Me?
Risk assessment software may be right for you if you're looking to increase customer and investor confidence, better prevent risks and increase efficiencies. However, simply using software to help you complete risk assessments can leave you vulnerable to blind spots without a risk management plan. Risks are a part of every facet of every organization, so if you have the budget to invest in ERM software, you'll experience a more strategic, high-level view of your risks and ultimately receive better short and long-term ROI.