Risk Management Software Solutions
$0.00
We believe performance is a result of effective risk management.
Our enterprise risk management (ERM) software empowers organizations to anticipate what's ahead, uphold their reputation, and improve business performance through strong governance. ​​Our all-in-one hub streamlines your processes with a range of automated tools that allow for better risk identification, monitoring, and reporting.
Included in this Bundle:
VETTED BY THE BEST FOR RISK MANAGEMENT
Risk Management Software can make a difference in your business.
You're responsible for making sure the risks that touch every process in every department are identified, assessed, mitigated, and monitored effectively. It's a big job. But you're committed to helping the company allocate resources effectively to protect its reputation, employees, investors, and community. Developing, improving, and reporting on your risk program has never been easier with our risk management software.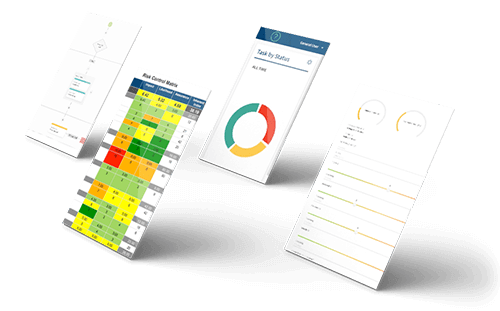 But staying vigilant requires the right risk management tools.
Without risk management software, truly excelling in your role can be difficult.
Spreadsheets and Word documentation systems remain static and fall out of date, making it hard to collect and report on data across the enterprise.

Engaging people from the executive level to the front lines is a daunting task when you don't have an automated risk management software solution.

Developing a cohesive risk culture is nearly impossible without breaking down barriers between departments.
FREE DOWNLOAD:
Building The Business Case For ERM Software
Discover how to articulate why spreadsheets for risk management are holding your company back.
LogicManager provides leading risk management software solutions.
Let us introduce you to an enterprise risk management software that erases all your pain points at once.
Risk management tools that go the extra mile.
We know that you love to go above and beyond. Now that your risk management program is improved, you can focus on doing just that. Our risk management software and risk management tools are designed to help you align strategic business goals with operational objectives. By giving you an enterprise view of your risk at all times, LogicManager not only drastically reduces the time and money you spend on risk management, it helps you help others.
"

 
LogicManager, from start to finish, I tell people that it's the best vendor experience that I've ever had because they always do what they say they're gonna do. You don't have to continually follow up – they're right on top of it.
"
John Harwell | AVP of Risk Management, Apple Federal Credit Union
Want to learn more about how our risk management platform can help?
We've prepared this just for you. With LogicManager's software and expert support, you get everything you need to jump start and advance your ERM program. Leverage a broad range of content from pre-built risk libraries to standardized assessments. Download our free datasheet to learn more about the benefits of our risk management software.