VETTED BY THE BEST FOR PROJECT RISK MANAGEMENT
Why a Risk-Based Approach to New Projects is Important:
LogicManager's New Project Risk Management Tools
COMPLIMENTARY DOWNLOAD:
Risk Assessment Excel Template
Use our free risk assessment template to get started!
Achieve Your New Project Risk Goals with LogicManager
Proactively identify risk
Identifying risks before starting a new project allows you to determine where to put controls, policies and procedures in place in order to help mitigate against any particular risk. By getting a head start, you're able to proactively mitigate as opposed to reactively rushing to put controls in place after the project is already underway.
Prepare for the unexpected
Many things are out of our control, but conducting a new project risk assessment can aid in your organization's ability to prepare (and stay prepared) for the unexpected and uncontrollable.
Achieve strategic goals
A risk assessment helps you determine whether or not a project is aligned with your organization's strategic goals. If not, you can prioritize and plan accordingly – maybe this project should have a lower priority and take up less of your team members' valuable time and resources. Should someone ask for your reasoning behind the resource allocation, you'll be able point to the risk assessment as evidence.
What is a New Project Risk Assessment?
In order for your business to succeed, it's important to continuously evolve; once you've mastered one thing, what's next? There are always ways to improve and expand your business. We've come to know these temporary initiatives with distinct deliverables as "projects." Some common examples of projects an organization may take on include:
Building or closing a facility

Re-branding

Developing or discontinuing a product or service

Migrating to a new software

Expanding or reducing service to a particular industry

Training a new group of employees
When your organization is engaged in any of the activities above, it's best practice to complete a New Project Risk Assessment. Taking a risk-based approach to new projects means thinking about the implications of that new project on all other areas of your organization. Conducting a new project risk assessment will help reveal those implications so you can prevent undue risk and optimize the success of the project.
Risks are everywhere; some are more dangerous than others, but unknown risks pose the biggest threat to your organization. Failure to identify project-related risks can lead to a number of negative financial outcomes: inadequate employee training can lead to incompetencies, which can lead to disgruntled customers and ultimately loss of business. Building a new facility in a flood-prone area without purchasing flood insurance can lead to substantial sunken costs. Investing R&D into a new product that fails to excite the market takes a toll on your business valuation, which can turn investors away. The list goes on.
Request a Demo For LogicManager's
New Project Risk Management Software
Start envisioning more effective, successful projects at your organization today. Request a Demo for LogicManager's New Project Risk Assessment solution package.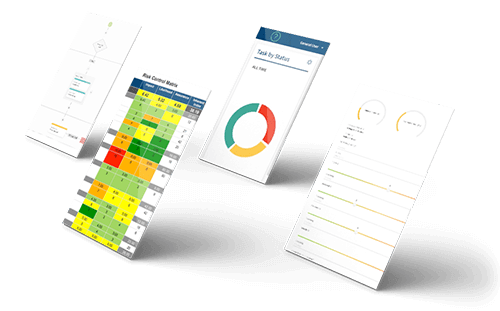 Request a Free Demo
Learn How LogicManager's New Project Risk Management Software Can Help Transform Your Risk Management Program
Speak with one of our risk specialists today and discover how you can empower your organization to uphold their reputation, anticipate what's ahead, and improve business performance through strong governance.